The 19th Century was a popular time for the whaling industry, particularly on the Falklands Islands. Whalers needed fuel in order to render whale blubber into whale oil, which would then be sold. But a lack of trees in the area meant that using wood to keep a fire going would not be not a sustainable option. However, there was another plentiful resource that made a suitable fuel; penguins.
This is an unfortunate truth. Penguins have highly flammable fat under their skin and they are quite docile in nature, making them easy to catch. Whalers burned them by the thousands, and the population of penguins in the Falklands Islands plummeted until there was a devastating change to their environment in the 1980's; the Falklands War.
In 1982 Argentina decided they would like to claim the Falklands Islands once and for all, and being just off the Argentinian shore, you would think this would be an easy feat. However, Margaret Thatcher, prime minister at the time, was not having any of it. The United Kingdom retaliated and for 10 weeks there was war. During this period the Argentinians left thousands of landmines on the islands to impede the British from retaking the area they had captured. Unfortunately it is a dangerous and laborious effort to detect and remove all the land-mines left in the area, and as a result, they are still there today, the only solution being to fence off the dangerous areas and put up signs warning people to stay away from the area.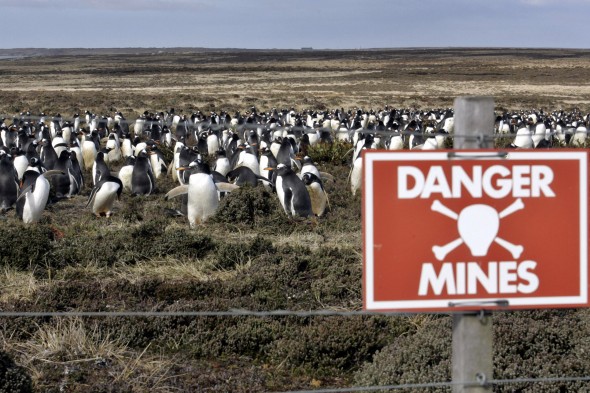 Stepping on an active landmine would be very bad news for any of us, unless you're a penguin. Penguins are very light-footed and as such do not set off the mines when they step on them. Coupled with the fact that the areas are devoid of any human intervention, the penguin population in the Falklands Islands is once again booming with a population reaching over a million in the Islands alone with 5 separate types of penguins species all living together in a perfect, penguin paradise.
---
Further Reading: